I was drawn to this 'Amazing Graze' menu offer by doing an internet search for my own website and stumbled upon this fantastic offer at
Michael Caines' restaurant at Abode,
Exeter: three course lunch for £9.95. A few days after our trip to Caines' other establishment, Gidleigh Park (more luxurious, more traditionally English country house) we treated ourselves to lunch at Abode overlooking Exeter Cathedral. After the whopping bill from Gidleigh, we kidded ourselves that eating here would balance out the average of the two meals.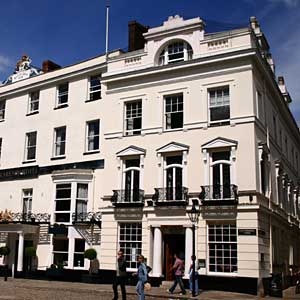 This restaurant is in the hotel (the left hand door half visible in the picture - not the cheaper cafe, MCs next door) and is modern: light and airy with wooden floors and no tablecloths. The waiting staff were efficient with dealing with a jam-packed dining room. A slight delay with bringing the bill, but I could hardly blame them as it was so busy.
I chose the confit salmon that I had enjoyed at Gidleigh a few nights previously, just to compare it. It was not identical, but pretty damn close, and at a fraction of the cost. My husband had the mushroom risotto - a small portion of deeply flavoured goo. After this tasty morsel, he wanted to upgrade to five courses for an extra £8, but I wouldn't let him. Still had to collect the kids from school at 3pm.
The mains were spot-on for lunchtime: seasonal, well-cooked and delicious. Pollock with a creamy saffron sauce and pork with boulangere potatoes. Desserts were lovely: glazed lemon tart with lemon confit sorbet (tres tangy) and pistachio nougat glace with chocolate grue. Yes, we had to ask what 'grue' was - a type of cocoa bean, the waiter informed us.
The petits fours with the coffee were wonderful - two wonderfully large round, sugared fruit jellies that reminded me of the boxed sweets my grandparents used to get at Christmas. These were passionfruit and apricot flavour served alongside two dinky little chocolate and pistachio madeleines. These have got me seeking out a mini-madeleine mould on Amazon. Going to have to mimic them at home.
Since yesterday the price of
Amazing Graze
has gone up a little. At £9.95 for three courses, it represented exceptional, unbeatable value for money. At the new price of £13.50 for three courses it's still highly competitive and for food, service and location like this, it's definitely worth it and recommended.
You can book a table online, which I really liked. You can see all the times that are available and you get a confirmation email - and you get to see all the special offers - early dining in the evening (be seated by 7pm) also seems good value.